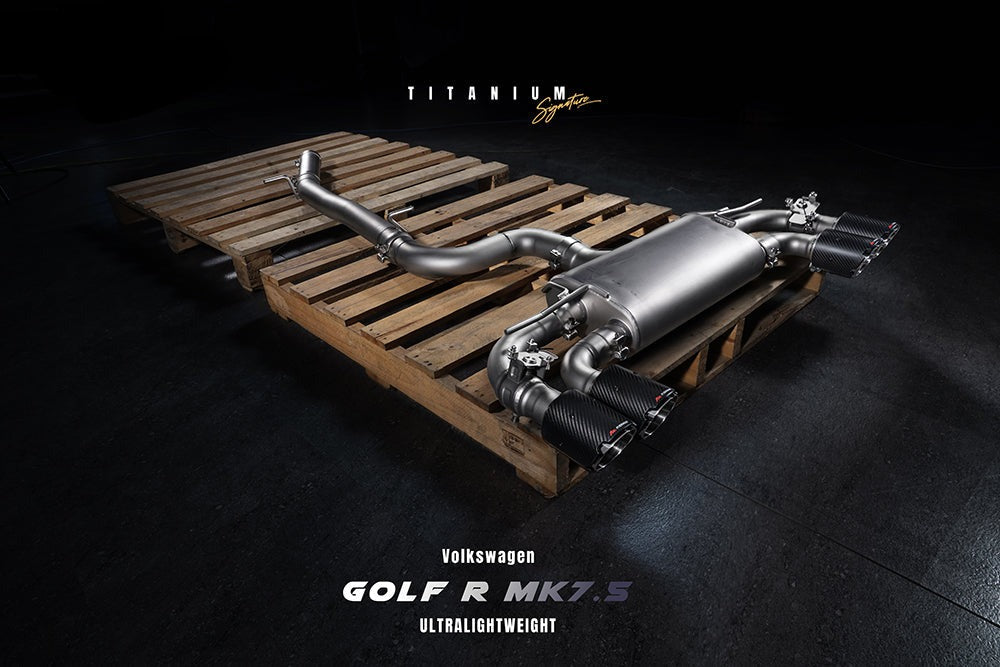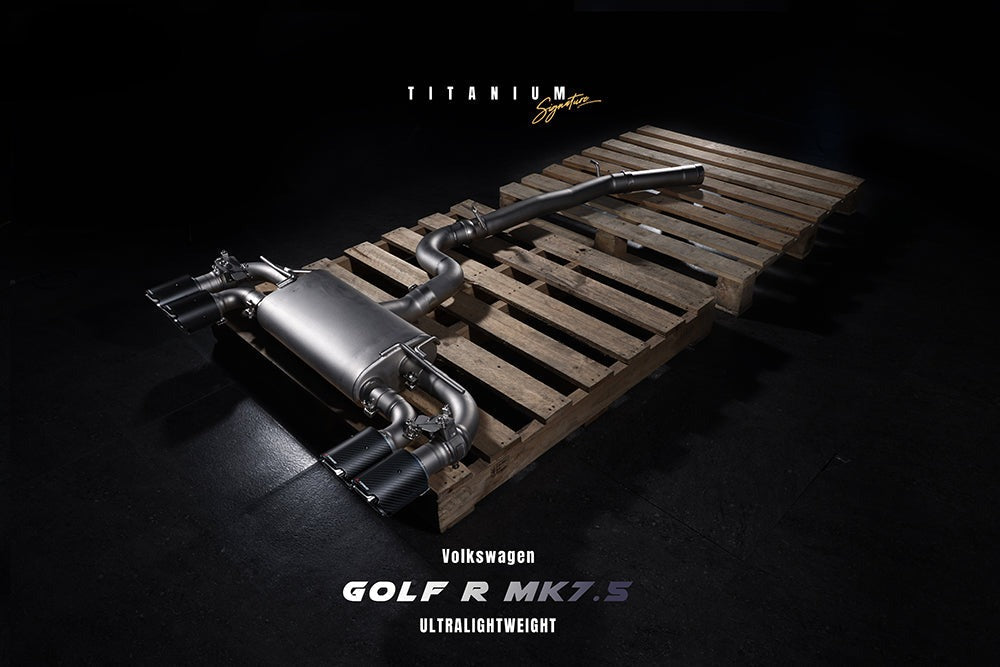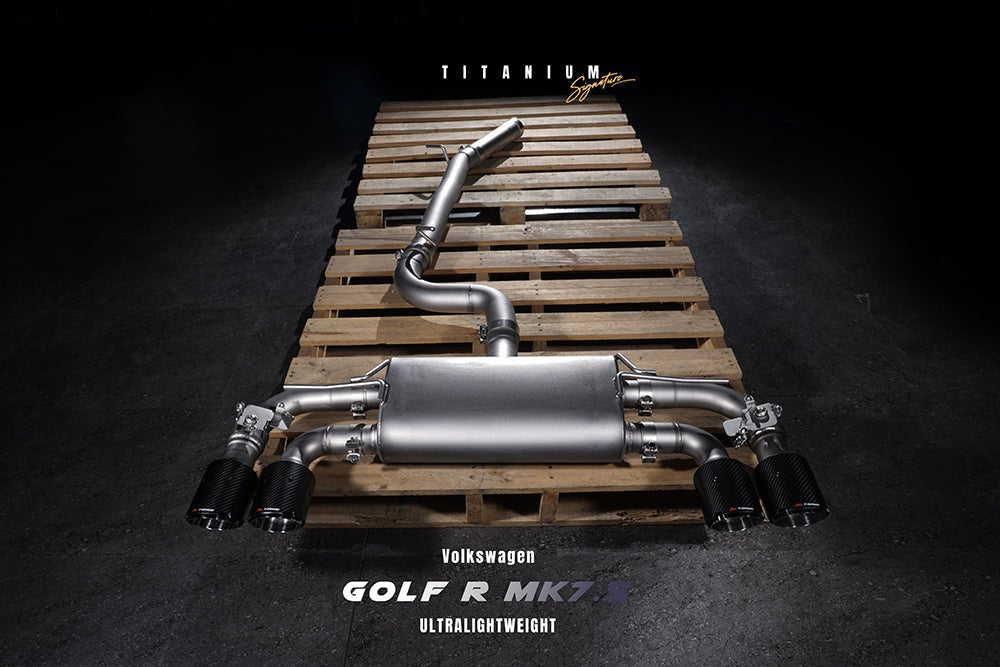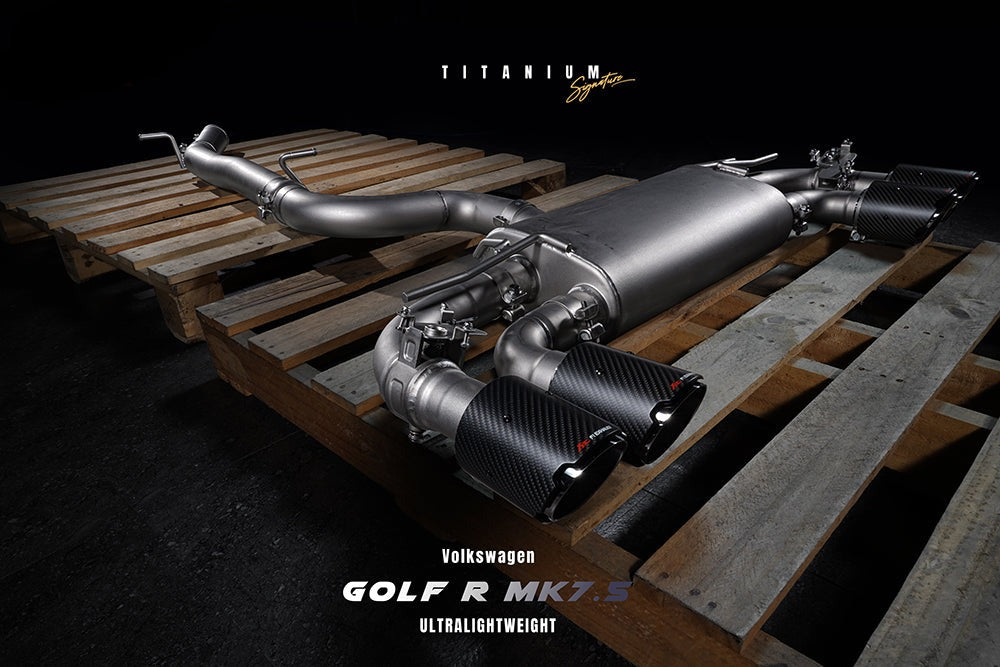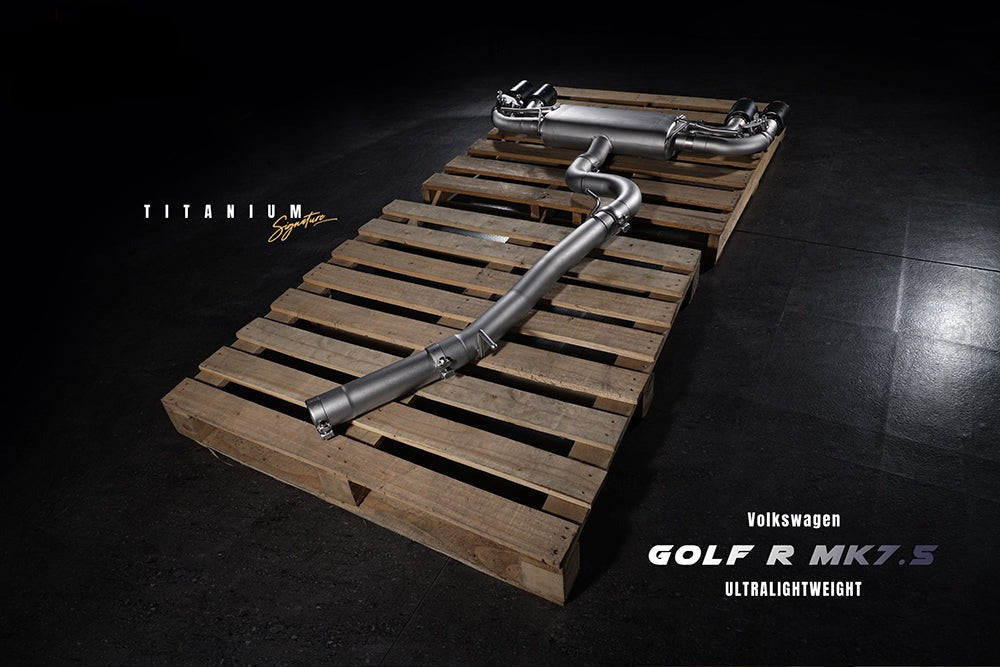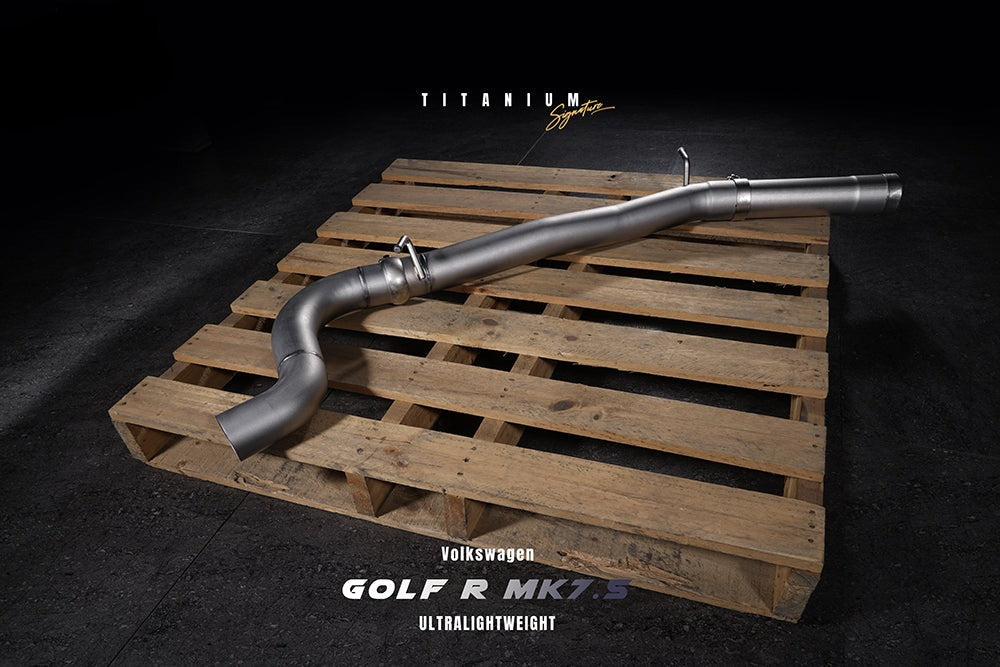 Fi Exhaust Valvetronic Exhaust System For Volkswagen Golf R MK7.5 Titanium Signature Series 18-21
SKU:
---
Pickup available at iilumolab
Please enquire for pick-up availabilities.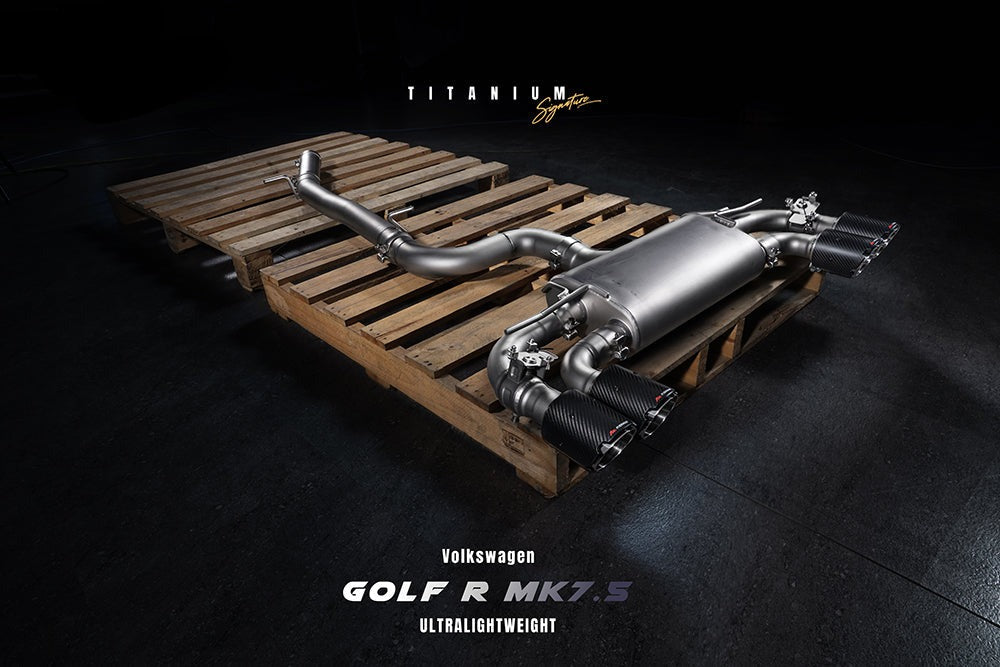 Fi Exhaust Valvetronic Exhaust System For Volkswagen Golf R MK7.5 Titanium Signature Series 18-21
None / Quad Tips in Silver (Standard) / None
Click HERE to make a booking
Volkswagen Golf R MK7.5 Titanium Fi Exhaust - Signature Titanium exhaust
 is a direct replacement 
bolt-on
 system developed out of an 
ultra-lightweight titanium material
 that on average reduces weight by 
46%
 compared to stainless steel while retaining strength to weight ratio.
To achieve these incredible weight savings even the tiniest component of the system, e.g., valves, clamps, screws are made out of titanium.
Pipe walls are 1.6mm thick, which is 0.6mm thicker than other aftermarket exhaust options. The 
thickness
 improves exhaust sound frequency, increases durability and product lifespan. The extra weight is not significantly detrimental to performance. However, it increases 
safety
 for the drivers.
Pipes are also polished outside and inside to achieve aesthetic and performance benefits. The polishing process smoothes a titanium metal surface to remove imperfections such as nicks or scratches and improves exhaust gas flow and quality of the exhaust sound note.
The titanium exhaust for Volkswagen Golf R MK7.5 Titanium is designed with a 
valvetronic technology
 to control airflow, sound volume and enhance the overall performance and torque. When valves are closed exhaust gasses are routed through the muffler resulting in a low-profile comfortable drive. However, when the valves are fully open an intense and exotic soundtrack is produced.
Switching between street and race sound profiles can be done using 
factory
 exhaust/sport button or drive mode, or 
optional Fi EXHAUST remote control and mobile App
. The unique sound and performance are achieved through 
individually
 designed muffler internals that are fabricated for each car model to offer an ultimate driving experience.
Please note each part of the Fi EXHAUST system needs to be ordered separately.
Different exhaust parts are offered depending on the vehicle version.
Please note that the actual product may vary in appearance depending on the year of the car and area. The exhaust system is also subject to changes to the design over an extended time period. Product pictures are for illustration purposes only.
Catback Exhaust:
1. Mid Pipe + Valvetronic Muffler (Titanium) + Quad Silver Tips (Compatible with OEM Elect. Valve - No Remote Control Included) (VW-RMK75TI-CBOE + TIP63101S*4)
Down Pipe Optional:
1. Ultra High Flow Catless Down Pipe (VW-RMK7-NCAT)
2. Sport Cell 200 Catted Down Pipe (VW-RMK7-CAT200)

Tips Colour Optional:
1. Quad Tips in Titanium Blue (TIP63101TB*4)
2. Quad Tips in Diamond Black (TIP63101B*4)
3. Quad Tips in Gold (TIP63101G*4)
4. Quad Tips with Carbon Fiber (TIP63101C*4)

Fi PRO App Remote Control Module (OBDII) Optional:
OBD2/Mobile APP Remote Control System Module (R2020OBD + OBD-CAB-MBE)