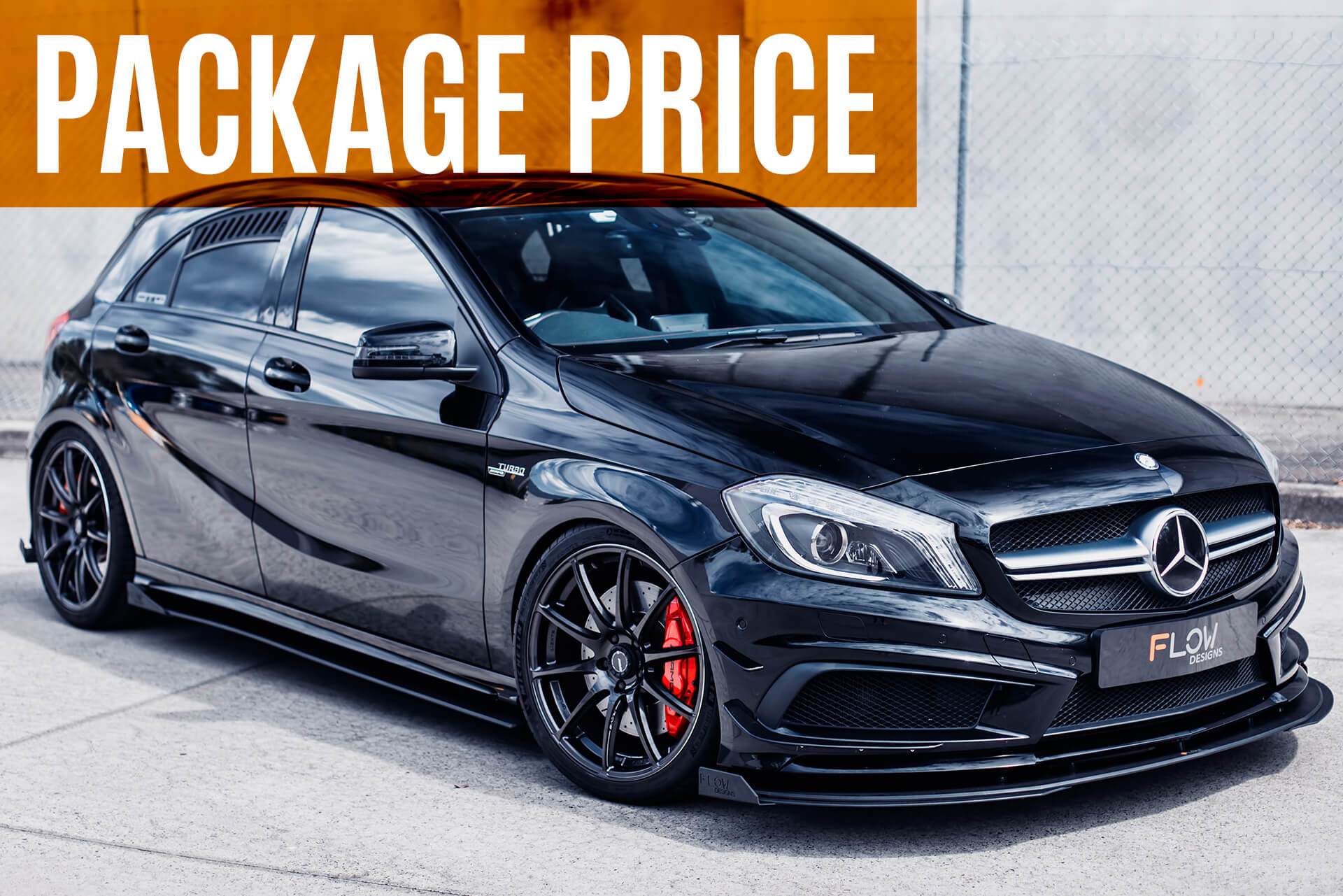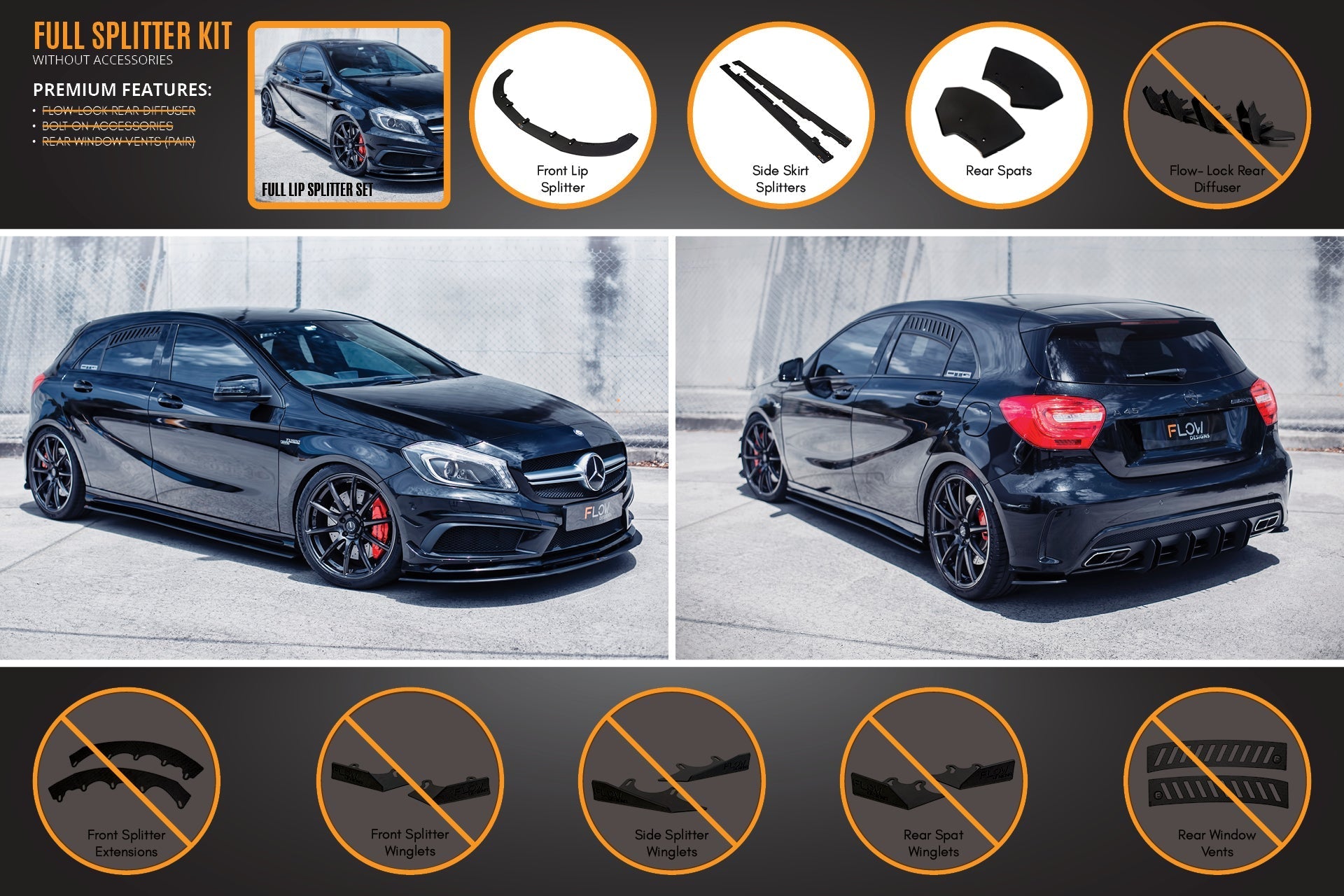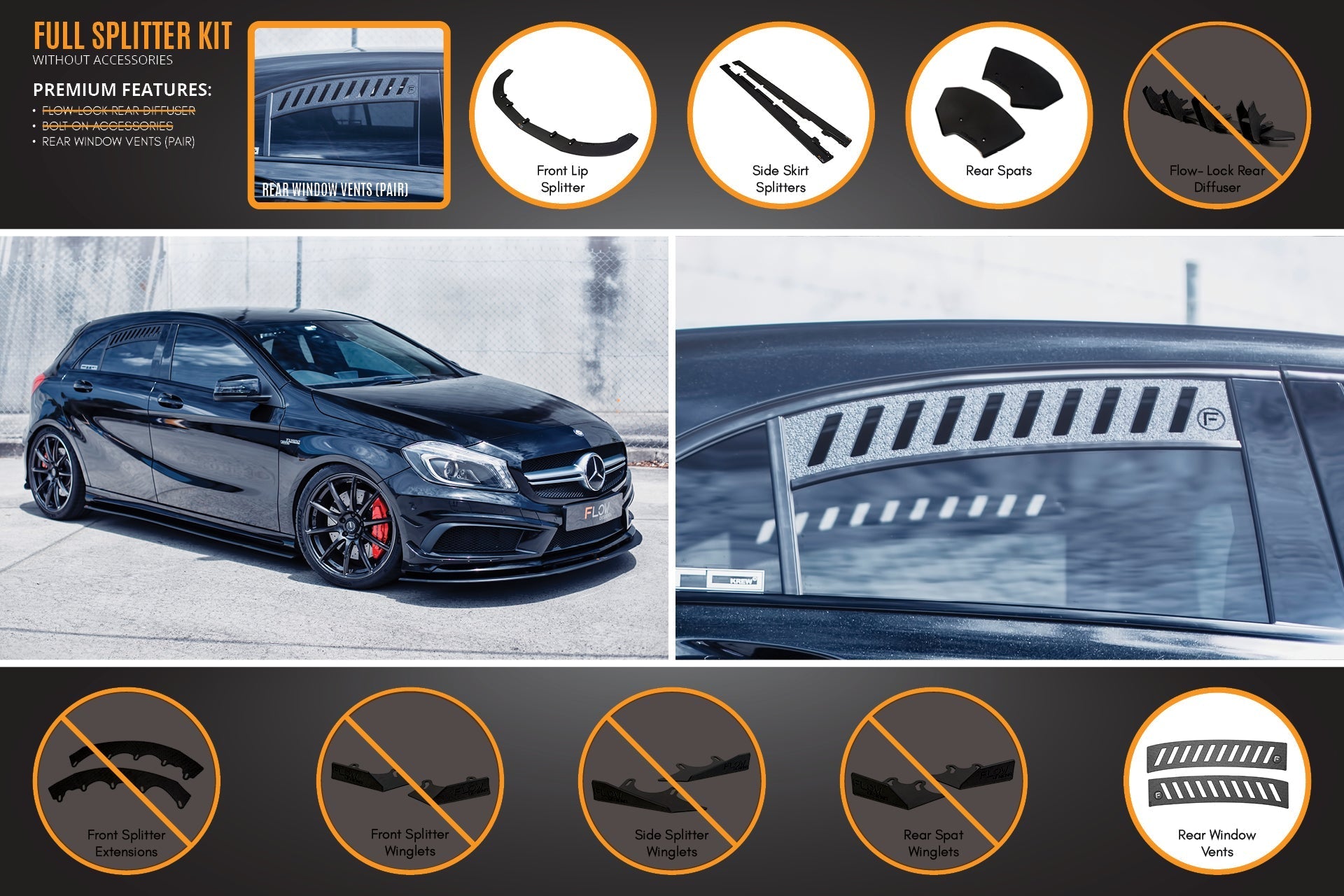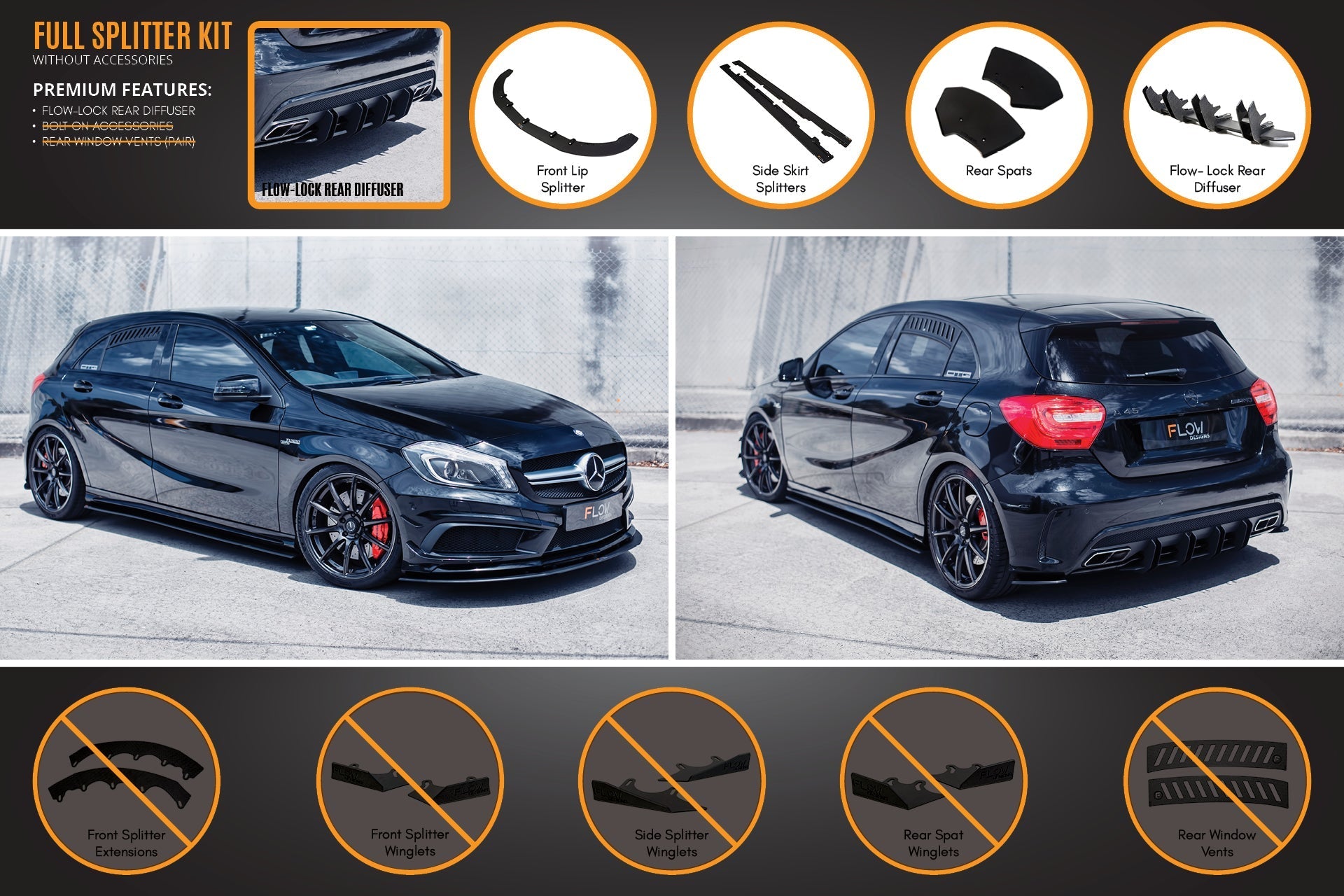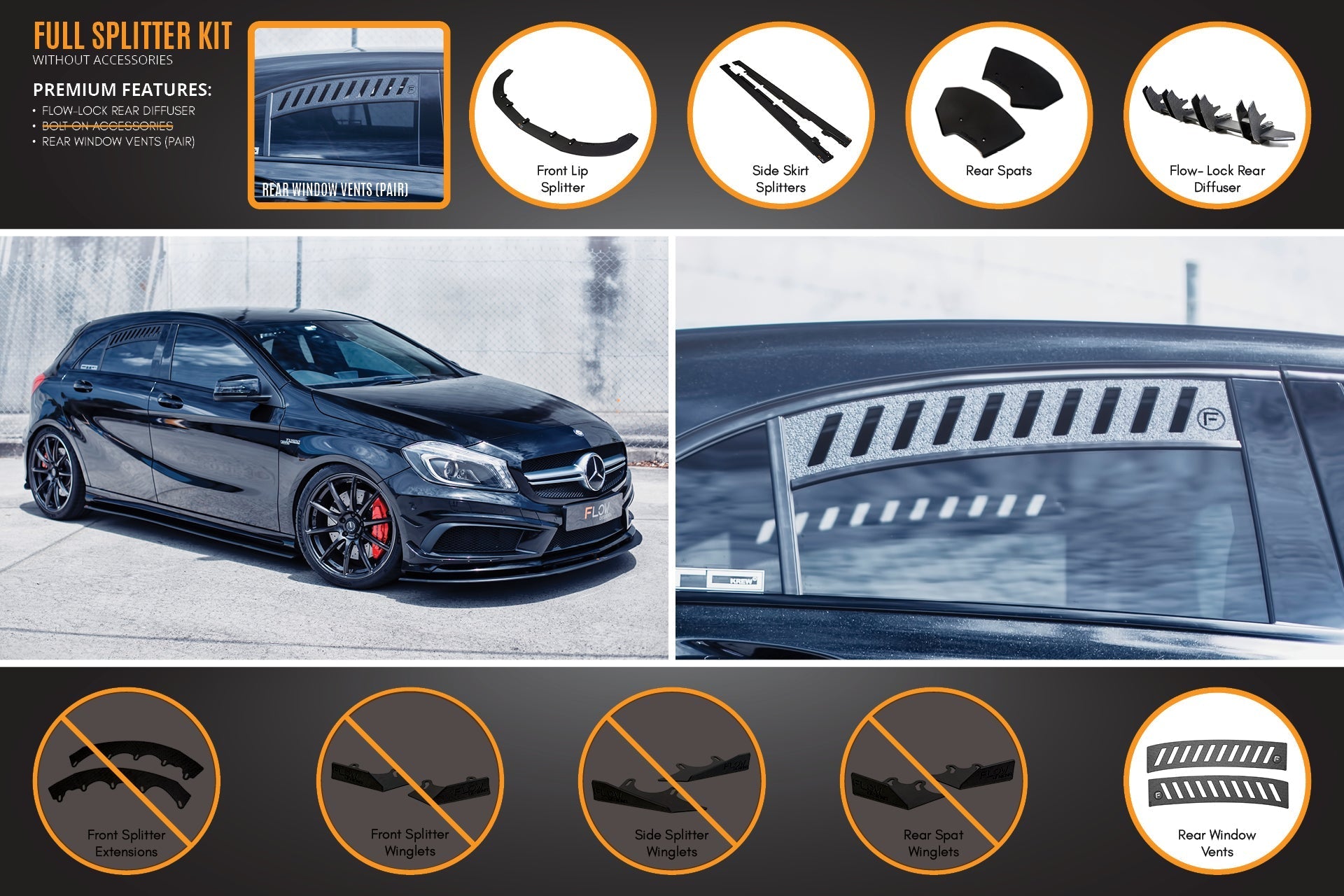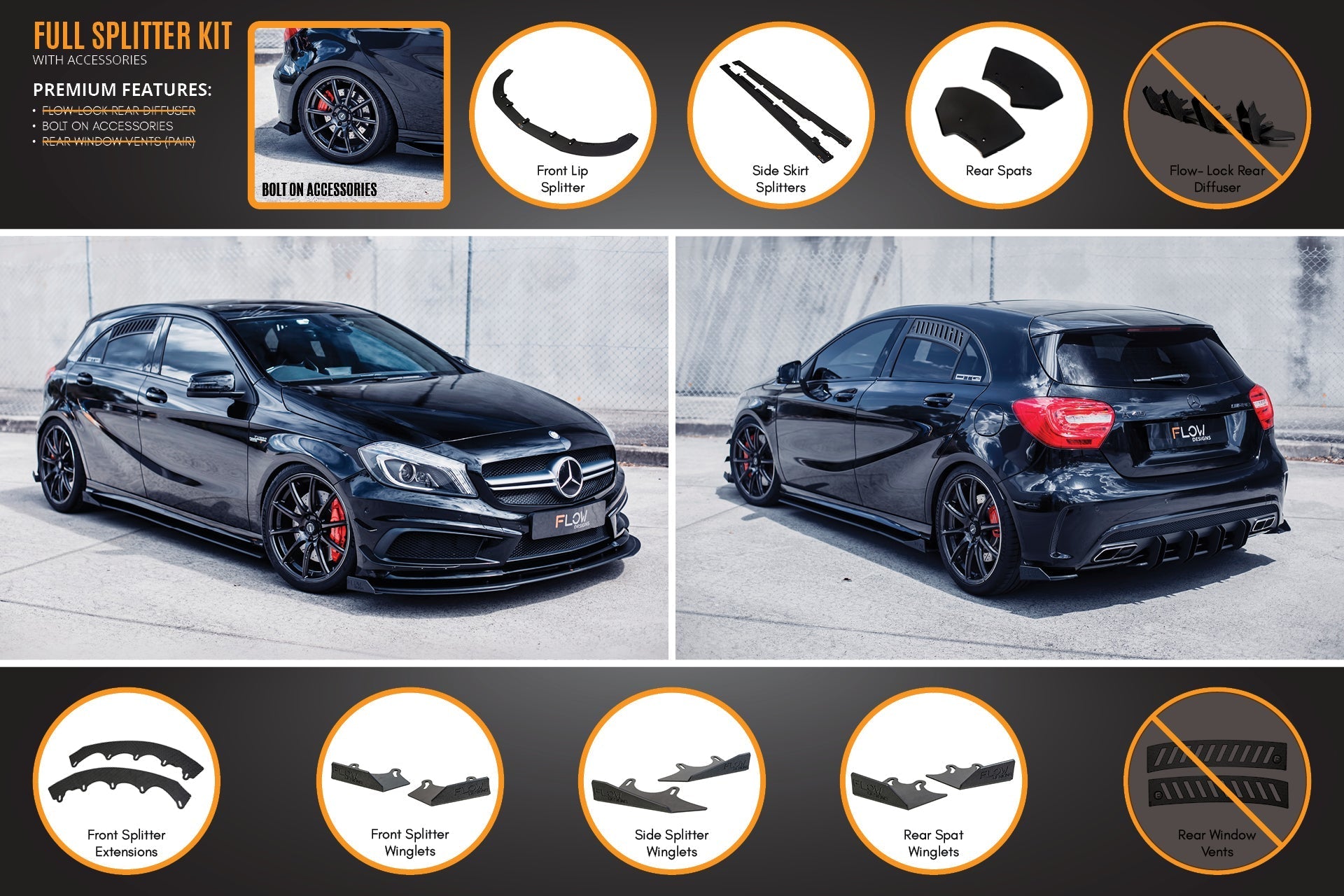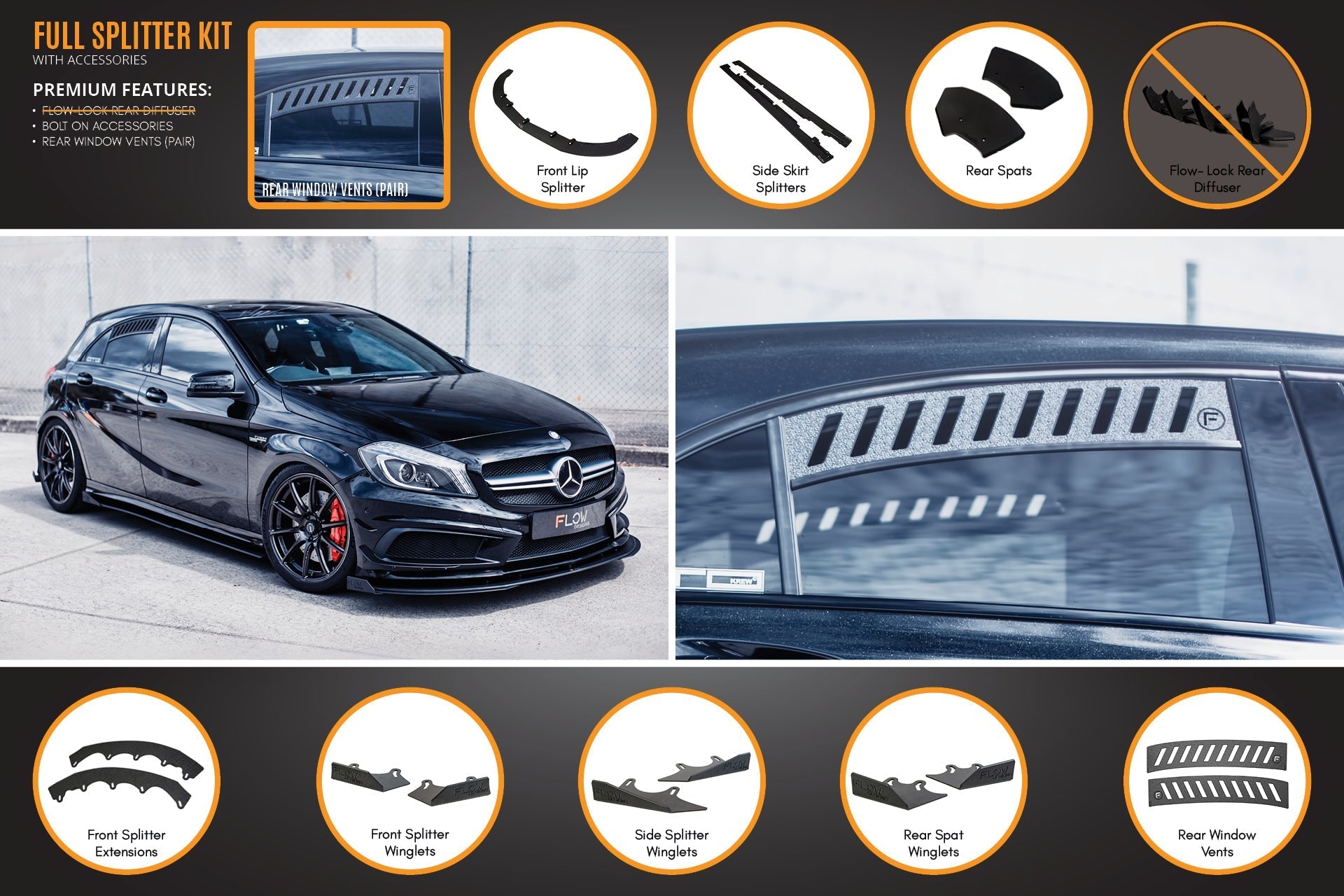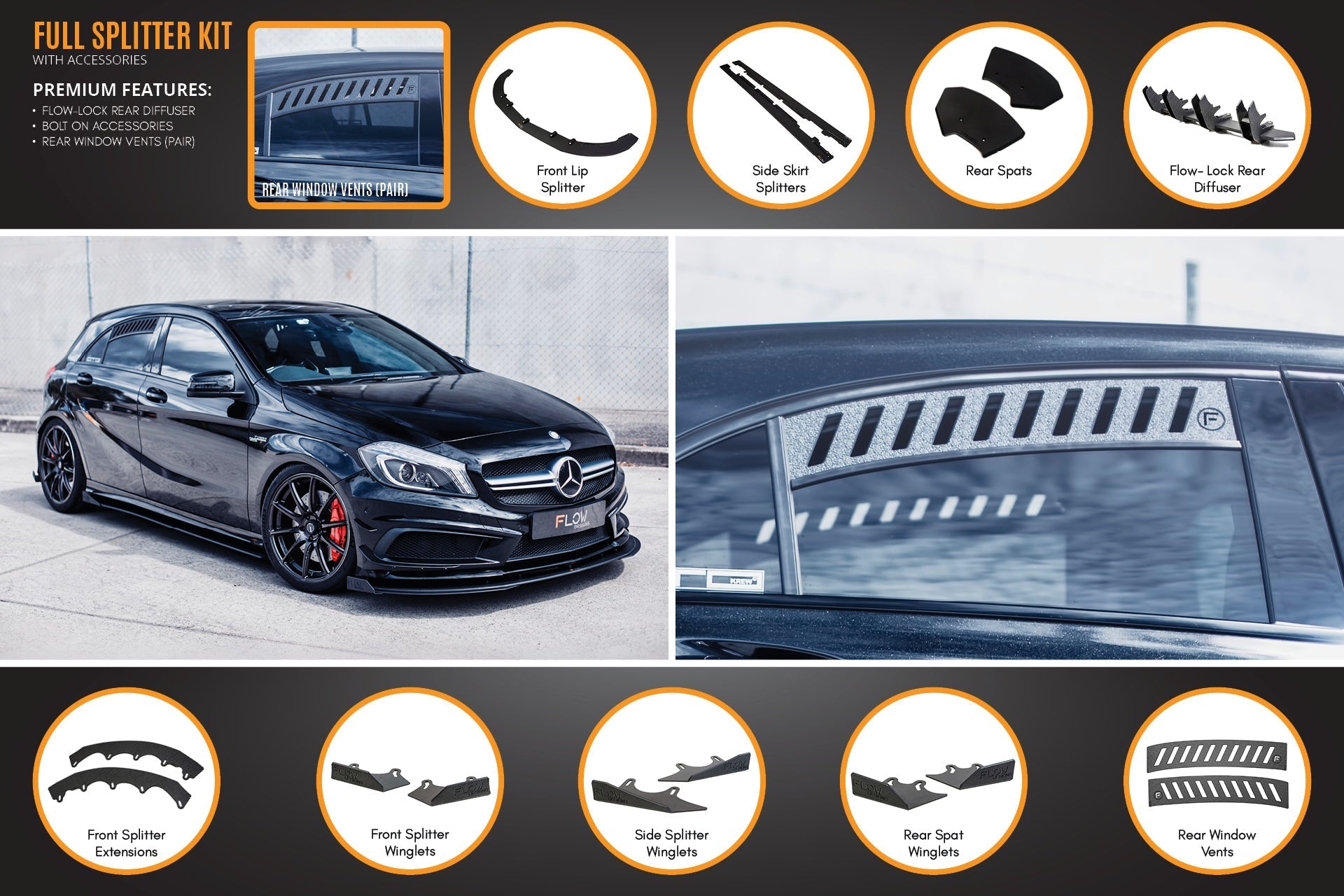 A45 AMG W176 (PFL) Full Lip Splitter Set
SKU: A45PFLPK-0
---
Pickup available at iilumolab
Please enquire for pick-up availabilities.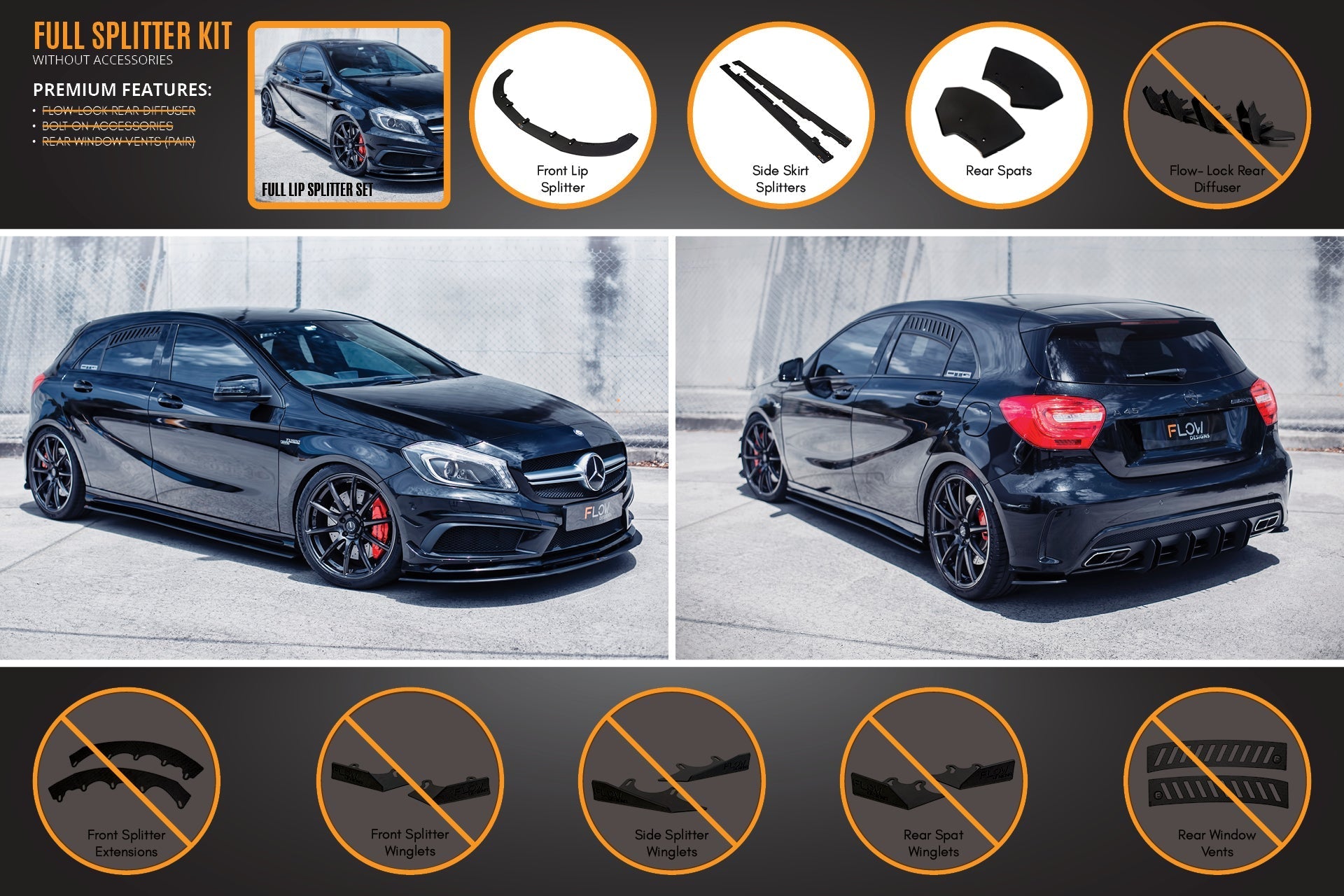 A45 AMG W176 (PFL) Full Lip Splitter Set
WITHOUT Flow-Lock Rear Diffuser / WITHOUT Accessories / WITHOUT Rear Window Vents (Pair)
Click HERE to make a booking
CERTAIN PARTS IN THE PACKAGE DO NOT REQUIRE BUMPER REMOVAL FOR INSTALLATION
Please note you are receiving a special price when you purchase the A45 AMG Pre-Facelift (W176) complete body kit splitter set.
Package price for this set includes:
A45 AMG Pre-Facelift (W176) front lip splitter
A45 AMG Pre-Facelift (W176) side skirt splitters (pair)
A45 AMG Pre-Facelift (W176) rear spats (pair)
WITH or WITHOUT A45 AMG Pre-Facelift (W176) Flow-Lock rear diffuser
WITH or WITHOUT accessories (front extensions, front winglets, side winglets, rear winglets)
ADD: Rear Window Vents if desired
Details:
The Mercedes-Benz A45 AMG Pre-Facelift (W176) body kit splitter set includes front lip splitter, side skirt splitters, Flow-Lock rear diffuser, rear pods/spats and our full accessories range of extensions and winglets all round. Easy installation instructions are included and certain parts in the A-Class A45 AMG range does not require bumper removal. We guarantee our A-Class A45 AMG body kit splitter set is the most durable on the market and will complete your exterior aesthetic by giving it a more aggressive look.
The A-Class A45 AMG body kit range shares the same durability and technology as our renowned Volkswagen Golf, i30N and Ford Focus RS line up which is trusted by car enthusiasts worldwide.
All our splitters have a 10 year warranty and are made from a thick polyethylene composite, making it the strongest product of its type on the market, watch our front lip splitter stress test to see how durable our splitters are. Each splitter is model specific in its development and design to ensure perfect fitment. The entire production process is done is our Bayswater factory making us proudly Australian made and owned.
We offer fast Australia-wide and international shipping for all our products - join the worldwide Flow Family today!
Kit Includes:
A45 AMG Pre-Facelift (W176) front lip splitter & Aerospacers

A45 AMG Pre-Facelift (W176) side skirt splitters

A45 AMG Pre-Facelift (W176) rear spats (pair)

Please select with our without:

A45 AMG Pre-Facelift (W176) Flow-Lock rear diffuser

WITH All Accessories Package:

A45 AMG Pre-Facelift (W176) adjustable front winglets (pair)

WITH All Accessories Package:

A45 AMG Pre-Facelift (W176) adjustable side winglets (pair)

WITH All Accessories Package:

A45 AMG Pre-Facelift (W176) adjustable rear winglets (pair)

WITH All Accessories Package:

A45 AMG Pre-Facelift (W176) adjustable front extensions (pair)

2 Flow Designs stickers

Fitting kit
Material & Finish:
Front lip splitter, side skirt splitters, valance, rear pods/spats: 10mm thick polyethylene composite, bevelled edges

Hand polished satin black

Flow-Lock diffuser fins, winglets and extensions: scratch resistant textured ABS plastic

CNC engraved logo and features